yup, it's a kind of bug i think
would be nice to decrease or remove timers when flight to maintenance airport is required
thanks a lot
Which timers are you referering to? The cooldown timers for maintenance are only 10 seconds now.
The bug seems to be at the "Send To Maintenance" Button only. Pushing it causes a freeze of the button which makes all other actions impossible to execute.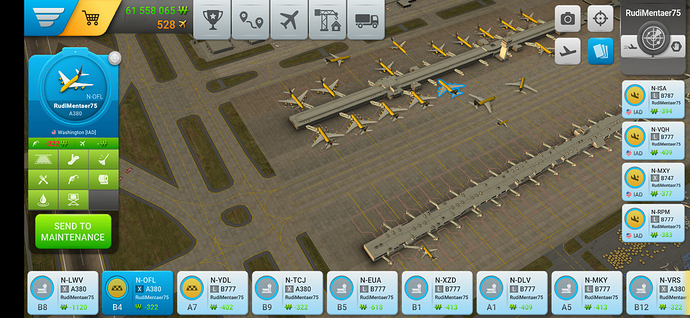 If you get the "Take Off" Button, which appears sometimes for maintenance, everything works smoothly.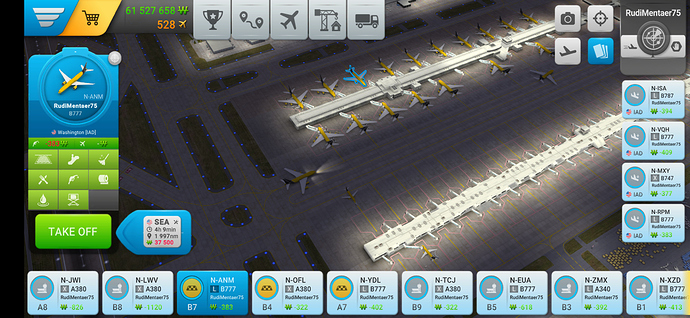 oh, I checked it yesterday evening, so maybe I'm out-of-date

I'll check it again this evening
Only 1 airplane (B787 N-BVT) is stuck at maintenance, while others can be sent to maintenance. Also other B787's.
I have one A320 and two B787 in Prague with this problem

Now my B777 N-LCV is also stuck…
And i keep tabbing it, stupid me. I must be really tired.
The problem seems to be solved with new aircraft arriving, I was able to send a few out earlier today. But there's still one stuck which causes the bug if I want to send it to maintenance. Can one of the devs please give it a push or if this doesn't work just delete it (I can buy a new one easily
). It's N-OFL at gate B4
I send 4 planes to maintenance today. I have 3 planes stucked and i hope there will be no more. Just deleting planes will not work for me and probably for a lot of other players because not everybody have money to buy it again. We will see how it goes for today

Sell the N-OFL, you will at least get some golden planes for it
it doesn't solve the problem because it doesn't disappear that way. sold aircraft disappear after departure from runway
If you sell it and restart the game it should disappear.
I think @RudiMentaer75 is right, even restart does not help, because the server didn't get the departure signal.
… is send of to maintenance

but the B787 N-BVT is still stuck
I send A380 to maintenance yesterda in the evening, and it came back at 12 and it is stuck too…
Can you give us any information on the status of this bug?
for the record: I've tried clearing cache and game data but that didn't help either.
Now my B777 N-CQY also stuck