Because they are another player's planes, if you touch them and they start to land on the runway or taxi, and you exit the airport and go back, the timer will continue to run down because you've already 'cleared' it. With multiplayer planes, their timers start as soon as they are cleared and on approach to your airport.
(If someone else sees this, please clear it up if you can, I can't think that well lol)
It's well explained



@petrazakova13 You shouldn't leave the airport when you assigned a stand for a plane of your connection partner. The timer will go on. The best you can do is tapping and holding the green "speed button" to handle the plane in time. You will loose some money, but better than loose level points.
I experience this when my game crashed. I accept plane and in the quee to land game crashed. Restart game and the timer is almost over when land. I cant do use speedbutton anymore to get on time. Most of the time s OR m planes. But loose my level points
Right, connection error can also be a reason. Even a plane that's already at it's stand could be away and come back in with almost no time left.
The problem remains.
I land a L plane of my conn. partner with 5 min. left. When it arrived to the handling slot there is 1 min left…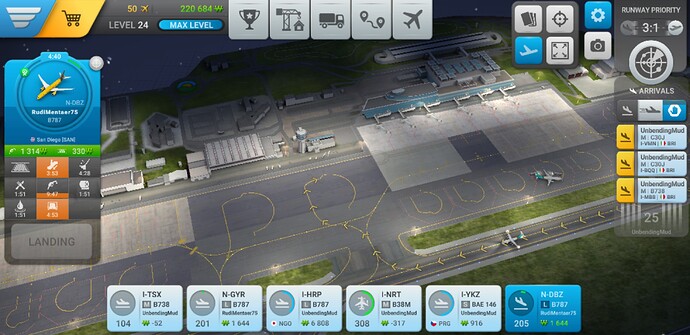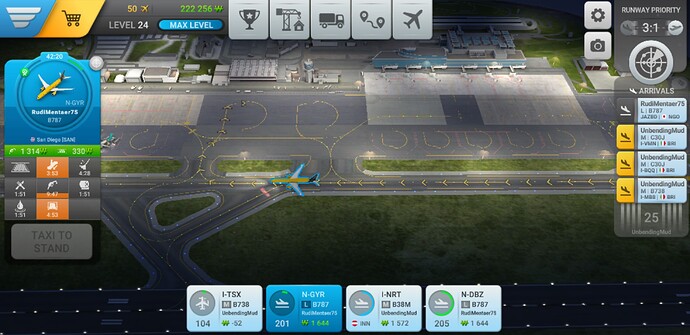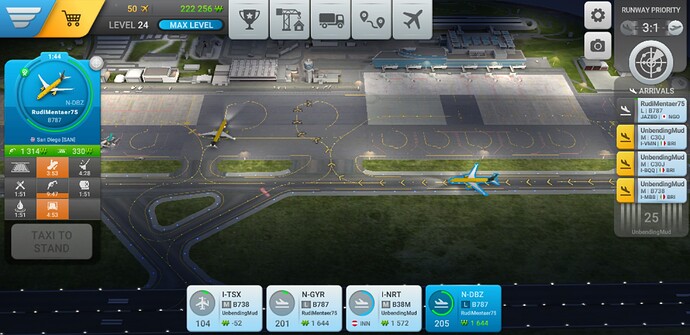 The plane landing earlier has over 40 min.
It happens with player planes. They have more time for handling but their timer starts just after landing. Once you assign it to a gate, the timer will start and even keep on running even if you are not playing the game. So if you assign it to a gate and leave, it will stay 40 mins and will be handled by another player. But I do recommend that the timer for assigning doesn't change. This bug happened to me as well. When the plane came, It had 1 min to handle but I didn't go anywhere.
But as You can see. It was right away. One plane (first one) has good time, second one (assigned later) has only 5 min.
Yes, that was the bug that happened to me too.
This only happens when you assign a connection aircraft to land and reboot the airport (i.e. when your game freezes). When that happens, the timer starts running while the aircraft is still in the landing queue.
It has happened to me that the aircraft parked on the stand by 0:00 remaining and left immediately.
This thing also happens when The aircraft is seen in the landing slots below the radar and not assigned to land
And if the airport reboots then we only have left with 5 minutes(Less if the plane is in que for longer duration) in hand which we can do nothing of.