All informations are on the feedback portal: https://worldofairports.com/feedback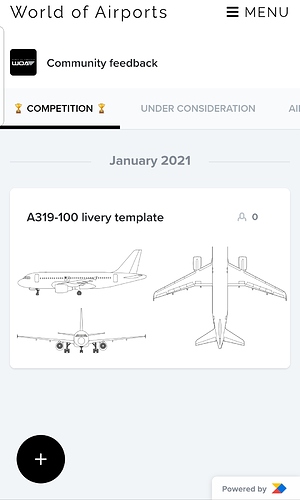 Make sure you submit that to the email address otherwise it won't get included

Have to say that looks excellent
What a masterpiece. Only 10 hours since revealing in voting section on WoA web-site and already a leader with +4 votes advantage.

Correction: +6 votes
by now its already 42 votes in total
I guees if this Polish livery wins the competition the devs will not implement this to the game. They want something neutral like B787 Orca is.
The airplanes coming in will definitely always be polished. No need for this handling then.
(Sorry, the name just invites doing this dumb joke)
I have noticed one person has submitted about 8 liveries compared to the 1/2 other players have submitted. To me it seems slightly unfair, but then again I don't really know the rules and don't intend to enter.
Just another point, when does this compilation end? I'll assume when it ends will be the day the A319 is released.
I haven´t read about any liveries count limitation. So there is no problem with it. by the way his work is good. I would say it is better than others and if I am right he has created Orca livery for B787.
About releasing the update with A319. I think that the devs will need some time to process the winning livery so there will be some gap between competition end and A319 with winners livery in gamae.
This will surely be added.

I'd imagine it will be announced about 48 hours prior to release, which seems most realistic. I'd also imagine this will be a special arrival, like the 787.
On FB page developers said (as answer on one of the comments) that competition will be until end of January. So, probably, release of A319 would be in amount of 2 weeks or a little bit longer
Seems reasonable, it seems the developers have quite a bit planned for this update from what they have shown on IG.
They could actually delay it. Release the 319 regular stuff first then the competition winner after.
Some of the things show on IG may appear but I don't think they are done yet by all accounts.
Be good if they could release together but that could be 3 weeks away
I would rather see small updates every 14 days to have time to enjoy the new stuff more intensively than huge update once in a blue moon.
Keeping players excited by posting of future updates on IG and FB is always good way whenewer they come live.
I think the devs are done with adding A319 liveries so now they will update. Maybe
My opinion is to be added 2 ( TWO) players designs:
One by players voting: Facebook and here
One by internal developers vote
That's fair for me : )
As for the end of competition (by devs words) left less than week, who are your favourites from presented variants? I personally like "Spirit of the Alps" and "Air Calcasia" designs.
My personal favourite is the BA Retro A319, but I can see that getting added as a premium arrival in the future anyways.