How many routes can one S,M,or L stand handle?
Routes are not per stand. Even with 1 stand you will receive different flights from unlocked destinations (random from pool).
Hi, how we can unlock WOA liver for crafts?
It was for backers on indigogo when they purchased one of the packages as far as I'm aware
I can't increase the number of L and X stands in Washington Airport anymore. What's the limit of this? And is there any opportunity to build more terminal and stands?
How many X or L stands do you have? It depends on you what you make a X or a L stand.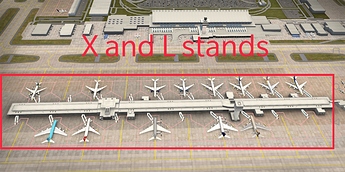 Here you can choose what's L or X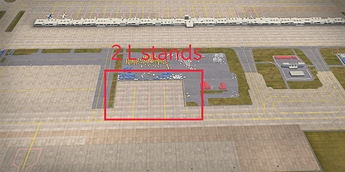 Here are just two Ls
The terminal layout is defined by the real airport so no there is no way to build more terminals although you don't say if you have the cargo stands open yet
However as noted above, there are 20 X/L stands with the A/B terminal which you can build as one or the other. And there are the 2 L only stands (R14 and R15) on top of that.
The devs are close to completing an update where you will be able to have multiple aircraft levels arrive at one stand, right now you have to choose one or the other, future you will have option to do both without having to go back and buy the alternative, which you have to do right now.
How about developing to the new terminal? I already use this terminals for X/L stands also R14 and R15z also I have cargo terminal. And because of unavailability of the X/L stands I miss so many flight.
Not sure what new terminal you are thinking because if you look at a google map of IAD, you will see the devs pretty much nailed it with the real layout in fact by the looks of things they gave us more x and L than really exist.
I will say that looking at the real layout there appears to be room for a R16 and there are some stands to the left which I am not sure what they are doing. Suffice to say, I doubt we will get more.
to many phones wont handle bigger airports than current IAD, its already massive so no extension planned.