I had an idea that I found very interesting and that could be applied in the future.
I've been looking at some buildings that are part of the PRG airport and noticed this parking lot. It would be interesting if we could buy some buildings around the airport and they would generate some kind of revenue over time (maybe even when we're not in the game, so we can collect the amount raised by opening the game again).
PS: This would apply to all airports, but I used the PRG as an example.

Below is an example of what buildings could be at the PRG airport.

To make it more interesting, it could have 3 (or more) types of buildings.
RED: Parking lots, the cheapest to build but generate less revenue.
YELLOW: Hotel, more expensive to build but generate higher revenue.
GREEN: Administrative, does not generate any revenue but airport services would gain a speed buff (even if they are at the maximum level).

Some airports (INN for example) may use buildings with texture (yellow), buildings without texture (red) or an empty lot where the constructed building would appear (blue).

An additional button would appear with the option to build buildings or they could use the existing button that builds the building that enables M, L, XL and Cargo stands.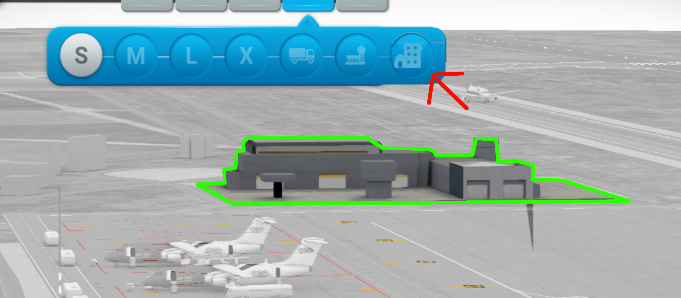 I think of the following values:
15000₩ - Parking lots
With a revenue of 1000₩ per hour.
30000₩ - Hotels
With a revenue of 2500₩ per hour.
25000₩ - Administration
The value could change from airport to airport.
I think the game would be more interesting for everyone. New players would have "help" in generating revenue and players with lots of money would have a new option to spend their money.
What do you think of this idea? Give your opinions and suggestions.