My game crashes after like playing for 1-2 it always Happenes at IAD
Happens to me a lot as well. And at all airports for me. Every time at random.
Always happens at IAD and NGO for me.
Always closes for no reason on iPad Pro 2021 M1
On iphone6, the problem is only present when all airports are opened.
You can connect to the devs directly under
After update 1.4.1 Game crashes every 5 min.
Make no sens for gaming today!
Not every 5 mins here, but often enough to be annoyed.
same here, loads of crashes like always when a new airport was added. seems like the servers get too busy

from yesterday night can't enter to the game


Since thuis morning this screen appears… 'something went wrong, restart the game'.
Will this be fixed, or do hou have to reinstall the game?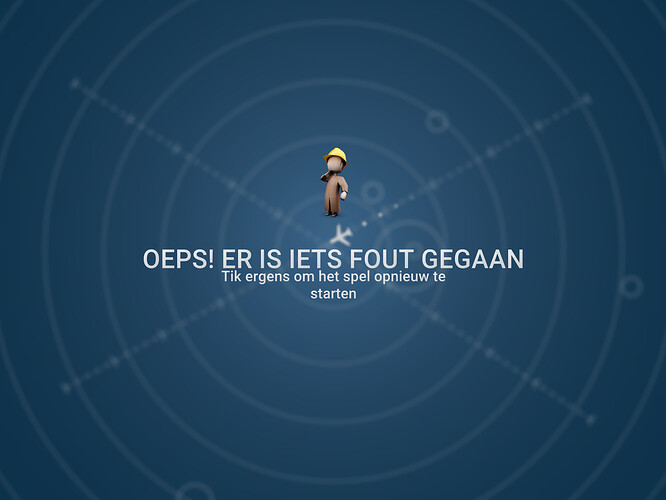 Have the same problem. Is probably server end. No need to reinstall for now.
Graag gedaan.
With me it works again.
crash again


I have an iPad Pro (12.9, 3rd generation) and iOS 14.7.1 and the game always crashes after a few minutes (IAD).
I wanted to buy credit points in the store, but not when the game crashes every few minutes.
Apparently other players have the same problem.
My username is: Emotionsloser Bäcker 20
Is anyone already working on a solution for this problem?
Regards,
Emotionsloser Bäcker 20
I am not sure if it will fix the game crashes per say, but they are working on optimizing the performance of the game, which might have a side effect of fixing the crashes. I think the next update is probably a week or so out given where they are with loading the information into the feedback portal of what's included. So best wait until that point, as even if i send it to them now, i doubt they will look at it until the update is released anyway
Hi @carlsberg72 , thank you for your help.
I hope everything is fine again after the update…