Hi!
Sorry, English isn't my first language. I hope you'll understand my questions. If French people see them, you can answer in French, thank you.
First, I have a problem with one of my planes in Prague. I can't send it, because he has to be in first maintenance, as you can see in my pics. But I don't know how to put it in maintenance. How can I do it?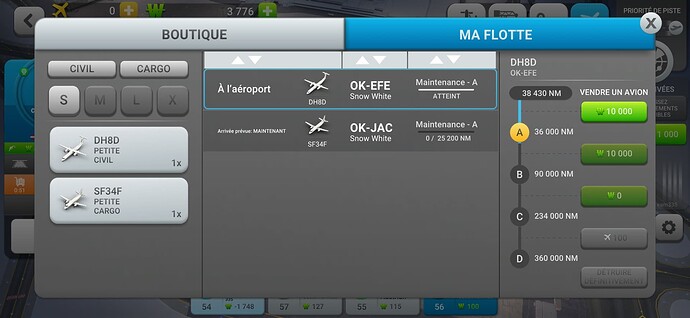 Second, the app say that the other plane is arriving, but it makes half an hour and it didn't came. Others planes arrived and take off, I have place to park it. So I don't understand why he doesn't come back in my airport.
Third, I bought some planes in the others airports. But I don't see them in Prague. Can I use them here? If yes, how can I do it? If not, when we have finished with an airport we have bought planes for nothing, and there is no reason to use these airports again because we can't use money gained in these airports in the new one.
What do you do for your past airports?
Thank you.
Lucie