I'm still ranting about the Tower / Runway Priority changes in 2.0, but until the planned Tower function is implemented, I've been staring at my (TAKING FOREVER) Prague airport looking for why the airport is so empty and the Departures are so backed up. Today I found it - Taxi speeds exiting the runway.
Watching the Smalls land, they generally brake right up to the exit. However watching Mediums and Large, they finish decelerating quite a ways away from the [high-speed] exit and then stroll at normal taxi speeds down the runway and slowly exit the runway.
I don't know about countries outside of the US, but FAA defines these taxiways with up to 60 kts allowed for exiting the runway to help reduce runway occupancy.
[Pilot / Controller Glossary] page H-2 (https://www.faa.gov/air_traffic/publications/media/pcg_basic_4_20_23.pdf)
In this example, this A319 finishes braking at 16 seconds in the video, and 16 seconds later he finally exits the runway enough to trigger the next possible landing…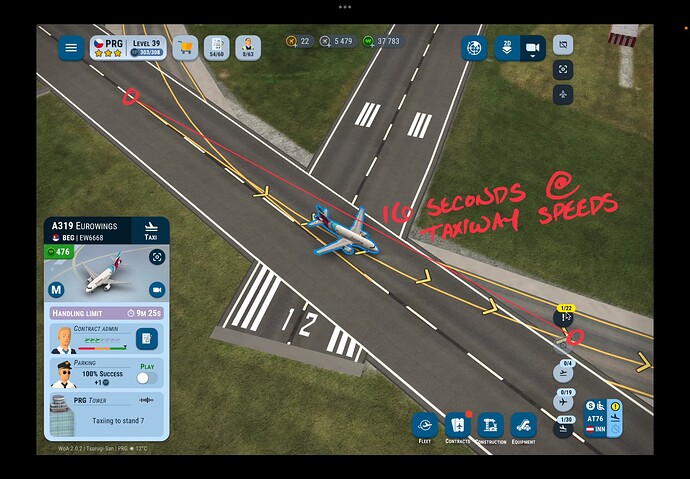 These exiting taxiways were designed at 30-degrees-or-less on purpose - to keep the speed up. If I bring a Cessna or my (soon) Super Viking into a busy Class B or C, they want me to (safely) keep the speed up as long as I can so that 737 on final doesn't roll up my tail feathers. If normal taxi speeds for airliners about the airport is about 20 kts and 10 kts in turning, there's got to be a way to get these planes to get off the **** runway faster… Departures wouldn't stack up quite so much, parking spots would fill faster, airports would operate more closely to the 'realistic' that the devs kept claiming at the 2.0 reveal.
I'm not ignorant on the complexities of coding, i know some situations can be tough, but I'm completely confident that this can be done right.
Here's to crossed-fingers that the Tower update will address this…
//end rant.