There is one nasty quizz of Facebook…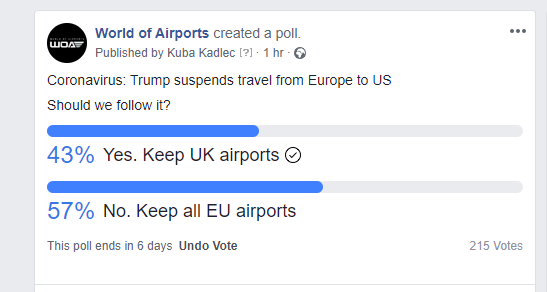 This is a once in a lifetime opportunity for the game to do this! Although Bari might also have some restrictions in future?
I don't think the game should reflect real life so accurately. We play to get away from real world worries for a short time. We should focus on fun and leave the BS to the real world.
I'd rather support a solution that acknowledges that we have more time to play since social life in many parts of the world has been or will be crippled.

Looking on number of planes some players have they finished their real life long time before coronavirus

@shill 10 points for style!

Peak performance I guess

@Shill, that's mean bro! hahaha.
I am affraid I may still leading "hours played" from alpha 1 till now… so

If you're gonna do this also remove the old Lufthansa liveries, FlyBe liveries and the Virgin Atlantic A340s.
True. Though I think FlyBe should still stay. Because their partners still operate FlyBe planes.
" For flights booked on Flybe services operated by our franchise partners, Eastern Airways and Blue Islands, these continue to operate as normal today and we ask you to contact them directly."
Source: FlyBe Website. https://www.flybe.com/
Those planes used the respective airlines own liveries. Good excuse to keep them though.
They do operate the livery's of FlyBe sometimes. But hey, I like FlyBe it's a great airline. And I agree it's a great excuse
Interesting, I also flew with Flybe the week before it shut down and it was great! (Yes, 30knt winds in a Q400, thanks Dennis!)
Ok, your shrink is cheating or you are not taking those pills