Hi all,
As noted on my test thread, I have created new fun awards for the achievements in carrying passengers. When you reach the thresholds below AND follow the instructions. I will make you a personalized award for that level and Airport. These will NOT be retroactive, except for MCT and future airports where totals are not yet shown. In those cases I will award the certificate one step back from where you are. For Example. If you are at 6m at MCT, I will create a 5m award for you.

So how do you get them!

If the instructions below are not followed correctly, you will NOT receive your award. No Exceptions!
Achieve the levels, noted below. If you are beyond the largest level already, let me know and I will create an additional one for it (will have to eventually anyway).

From the achievements screen in the main menu or the individual airport, (trophy icon), take a screen shot of your passenger count, showing you have achieved the appropriate level.

Post the screen shot showing that particular achievement has been reached in the SHAREPOINT section of the site, Share game screen / real world aviation - World of Airports forum
including the following information (if the information isn't entered. No reward, I don't have time to chase you down for it). Also do NOT message them to me or create your own threads, No Award and they will be ignored/deleted.
a) Tag my User name : @carlsberg72 in the post, so I get a notification.
b) Provide either of the options below as the name to go on to the certificate, please note, I cannot do foreign characters easily, so English translations are preferred.:
i) Your User Name or
ii) Your Own Name
C) add you own country. Certificate will show a flag both country of the airport and your own country.
Once I have the above, I will create a certificate and post it below in this thread with a tag for you to be able to pick it up.
I will NOT do foreign translations, sorry, I just don't have the time to figure all that out. Do NOT ask.
Levels currently set:
INN: 0.5m, 1m, 1.5m, 2m, 3m, 5m, 7.5m and 10m
BRI: 0.5m, 1m, 2m, 3.5m, 5m, 7.5m, 10m, 12.5m and 15m
PRG: 1m, 2m, 3.5m, 5m, 7.5m, 10m, 12.5m, 15m and 20m
IAD: 2m, 4m, 7m, 10m, 15m, 20m, 25m, 30m and 40m
NGO: 1m, 2m, 3.5m, 5m, 7.5m, 10m, 12.5m, 15m and 20m
SAN: 1m, 2m, 3.5m, 5m, 7.5m, 10m, 12.5m, 15m and 20m
MCT: Not available yet, do not ask until next airport is released, levels will likely match SAN.
So let's have some fun, remember this isn't officially endorsed by the devs, this is just a bit of fun for everyone to show how you are getting on with the airports.
Example Screenshot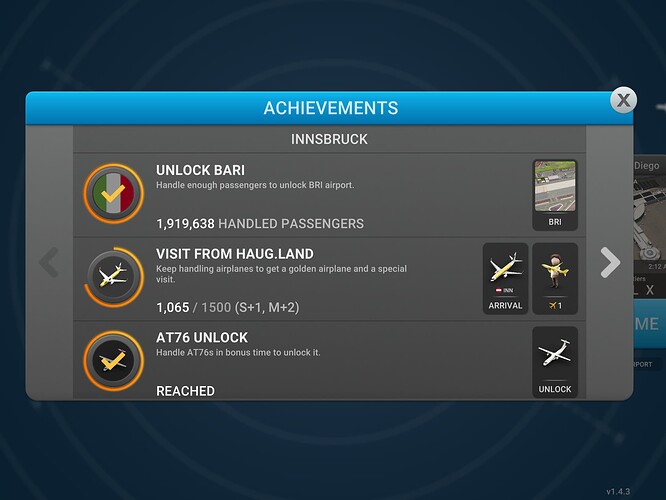 Example Certificate