Dear players,
I am posting this on all possible WoA places (forum, discord, Facebook groops) because I am here to get votes for a player suggestion.
Look at this video and think about what irritates me?
Well, it are the many many plane cards in the bottom of the screen. I need to scroll way too much through useless 'ready for departure' cards.
Why do I have S and M stands full of planes ready to depart? This way, I only get L and XL to land on my aiport, which is a way more efficient way of using the runways.
Possible fixes?:
Be able to shut down certain plane stands or terminals.
Make a filter button which removes the 'ready for departure' cards.
I slightly prefer the first one, but I am happy with any sollution for my problem.
Therefore, I would like everybody to vote for this player suggestion (see photo) on the feedback portal:
https://www.worldofairports.com/feedback
Developers are 'wasting' time to make beautifull stuff while this easy fix is still not in place.
Thanks for voting! Bye!
Kris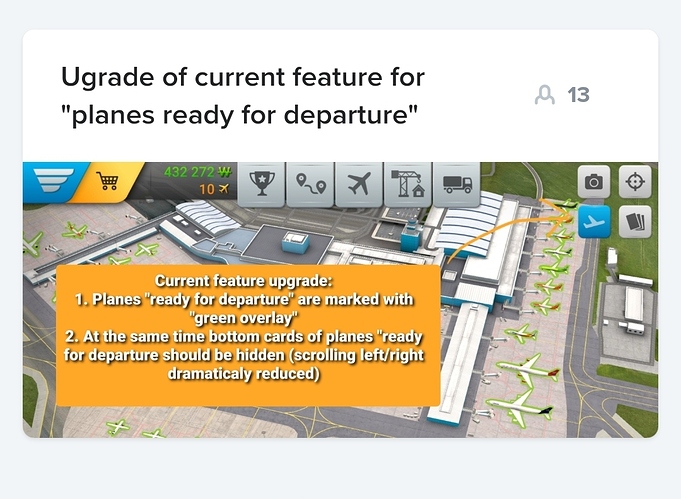 See facebook post for the video:

Edit: I don't blame developers, I blame people who vote for the wrong stuff haha