Progress log - 19.04.2020
Release: 1.1.11 internal build code 1.24.11
Deployed: 19.04.2020
Fixes:
Connections error for some routes/players
Changes
Possiblity to skip (any) minigame
Income for player operated aircrafts increased (new formula that slightly bumps income and it corresponds to real prices level scaled to the game).
New features:
Terminal 3 PRG - Heritage of previous game AirportPRG.
83rd anniversary of first DC2 landing @ PRG

IAD: M (11) /XL (7) CARGO stands introduced

B747 (cargo) XL-size

B737 (cargo) M-size

A340 (pax)

B747 (pax)

B777 (pax)

E190 (pax)

LOT Polish Airlines
Jetblue

A380 (pax)

Triangle players livery (for all available machines)
Moved to following release:
Nagoya (NGO) airport - pax and cargo traffic - works in progress 66,66%
Maintenance explained
Maintenance is splited into three phases:

Phase A - core system - where planes are monitored for milage they flew and send for A/B/C/D maintenance checks once certain amount of milage is reached
Phase B - (add-on 1) - where players will be able to have own maintenance hangar fot carry on A/B class maintenance (C/D have to be made in "factory facility" - plane has to be send to nearest factory - costs always involved
Phase C - (add-on 2) - players will have possibility to carry on A/B class maintenance for generic-traffic planes
Current patch has maintenance Phase-A. It will receive add-ons with following game releases (depending on prioritization).
Maintenance (phase A) explained
We will use "ATR72" as an example here:


Every plane's life cycle ends up when 1000% of its initial value is earned
that is translated to milage (NM)
after certain amount of milage done by a plane is reached - plane needs to have A>B>C>D check
when first D-check is completed - plane is repeating cycles (A>B>C>D) and when second D-check point is reached plane maintenance will cost lot more than for reasonable not-aged plane (theoretical end of life-time is reached).
milage is presented in "Fleet card" in game for every plane (with "maintenance progress bar" and respective number)

it does not matter if player choose long or short route for specific plane - distance (NM) is what matters for maintenance program
as plane gets older and passing certain maintenance-lifetime milestones it decrease its "gold plane" value
Plane/fleet details (new hangar / new plane card)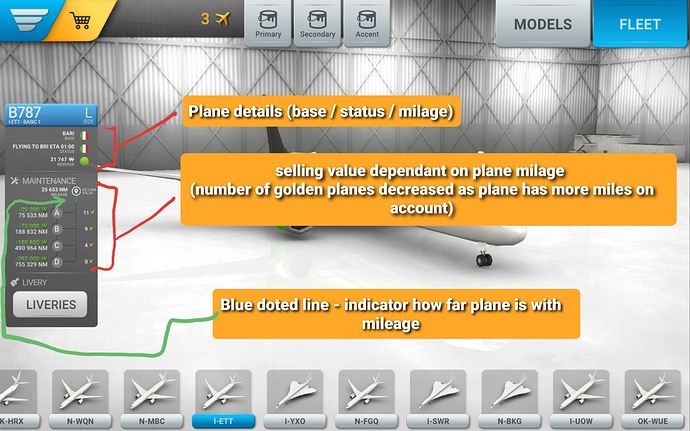 If you look closely - each and every plane can earn lot more than maintenance cost for the same - so there is no need to create drama

Important note: maintenance is new - planes will not have "old milage" each and every will start with "carte blanche" - meaning like brand new 0 NM.