Welcome.
This time I would like to propose an additional function at our airports.
As everyone knows, each time during the expansion of the airport we buy a "ready module". It costs a certain amount of money and offers us additional parking spaces for specific aircraft.
I propose to introduce an option that would allow clicking on such a module and turning it off.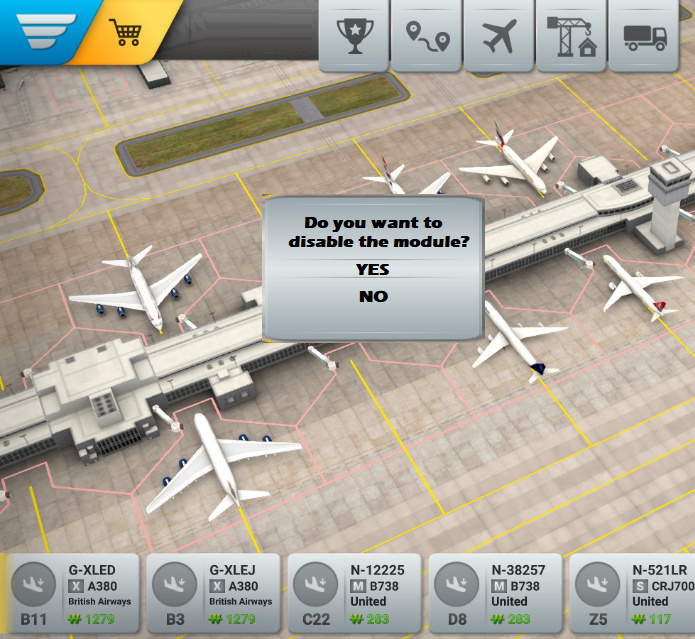 What would this be for? There may come a moment in the game (it happened to me) that we no longer need the service of the smallest aircraft. Small aircraft require the most attention and bring low profits. If you do not serve them quickly enough (which happens commonly when you have 30+ planes to manage at the same time), it usually ends with the plane departing alone (zero income) or delayed (even less money for us). In addition, small planes at large airports are taking resources. I am talking about equipment needed to operate machines and runways, both for landing and takeoff (which is a big problem in the current version of the game). It can be said that they also waste space when generating new aircraft that want to fly to our airport (radar). In addition, they create traffic jams like any other aircraft.
In one word. I would be grateful if you could turn off the places where the smallest planes land, thereby gaining faster arrivals and departures. Decreased demand for aircraft handling equipment. Smaller traffic jams before the runway and relatively better earnings, because we will not lose money on delayed flights and focus on more profitable planes (M, L, X), which are easier to handle with many.
Regards!