We have an exciting new feature coming to the game that we wanted to share with you - Handling Crews. This feature allows players to assign handling crews to each airplane, which has a direct impact on the speed of the handling process. The handling crew will consist of skilled professionals who work to get the airplane ready for takeoff as quickly and efficiently as possible.
To assign a handling crew, players will need to carefully consider the number of crews available, which will depend on various factors such as the size of the airport and the number of handling vehicles available. This limitation adds an additional layer of strategy to the game, forcing players to make difficult decisions about where to allocate their resources. By making these choices, players can optimize their turnaround times and ensure that their airport is running as efficiently as possible.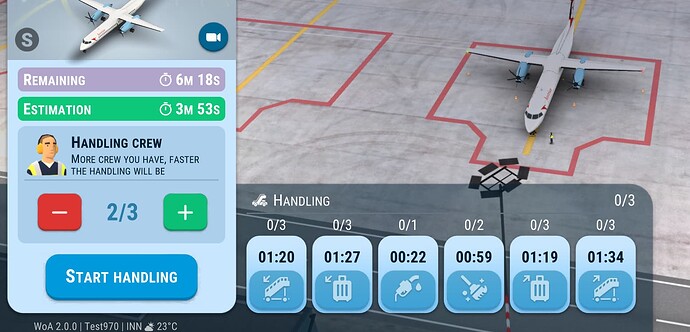 It's important to note that the Handling Crew feature replaces the current levels of handling vehicles, and there will be no more upgrades to these vehicles. However, handling vehicles will still need to be purchased in order to assign handling crews to each airplane.
We believe that this new feature will add a new level of realism to the game and provide players with even greater control over their airport management. It also adds a new level of challenge to the game, requiring players to make strategic decisions about how to allocate their resources.
Thank you for playing World of Airports, and we look forward to seeing how you respond to this exciting new feature. As always, we appreciate your feedback and support as we continue to work on improving the game. See you in the skies!