Oof! More space than I thought. Need to delete some things.
That happened to me, most likely a glitch in Google play, second didn't happen though, though I've never seen a tap to continue
When I see it I usually have a little weep then think about the 5 or 6 aircraft (or more) that were taxiing around & now need to land again. Especially the freighters at PRG



I am not satisfied because my updater is not working. Can anyone show me pictures of the new PRG? That will make me happy.
What they did with the neo is pretty much the same thing UATC did with the neo…
Speaking of the Max, I think it looks good, but they have to increase the diameter of those engines. They still look like CFM-56s…
Still, considerably better than the A319neo. The max only needs some minor modifications to the engines and it's tail cone. I have noticed it is the same height as the 800. It does need to be slightly taller but really can't complain with the MAX. The A319neo I think needs to be looked at.
I was watching the update proces and saw that there was a slight pause somewhere halfway. It immediately continued to update. So there were possibly 2 updates which were installed in one run.
With the change of the ATR72 to ATR76 I've lost all my bought liveries for this type and have only Basic and Racoon which repainted my fleet to Racoon. Is it possible to get the paid with goldies liveries back at least?
I had bird, and didn't lose that, so I can't relate
Anyone noticed how the stripes livery for the 737 MAX 8 is missing? Would also be nice for the Olympic ATR to be on routes to PRG/INN like the Dash 8.
Another thing I've noticed, how come BRI now has a grassy landscape and a lot of the terrain surrounding it removed? Is it getting remodelled?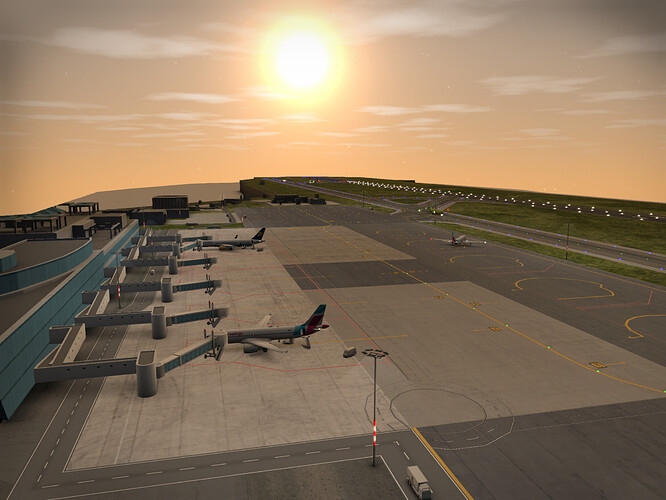 I noticed the box on the tail of the ATR43F is missing.
Same for all cargo liveries that were introduced (ATR, 734F), the A319neo is missing a section of the liveries on its tail.
Yes, my understanding is BRI should be next on the list. INN was the original test. PRG needed it because of the relationship between devs and PRG so BRI got skipped and they will go back to it.
B734F has the box, I can confirm that as i have a few. In fact I'll send them to your IAD shortly, you can see

Ah, I have one and I don't have the box on mine (it's basic livery so that might be why)
Fortsetzung der Diskussion von Update is out now:
Hello!
Updated the revenue calculation:
How to use this chart:
Calculation ist for selling just before check D
I not play so much like before so for me doesnt matter what new have.
2-4 times in month just to send planes from one airport thats all.