Typo still not corrected:

Did you gave all permisions for game?
Oh yeah I did tried that too.
I am getting this error too…had to hide interface and take screenshots.
Yeah, I think stand 1A/B/C - 6A/B/C never had marshalling probably due to the way they come into the stand.
That's normal, anytime you complete a contract the pmane returns empty (except cargo always does, which I thanks that is a bug)
There is a major glitch in seat layouts.
.
.
I bought an A380 at IAD and was doing the seat configuration for it.
I adjusted the business class seats and then the First class seats and clicked on apply.
.
And then went back to assign contracts.Seeing few profitable contracts i went back to seat layouts and to my horror I saw that there were no first class seats and they were converted to Economy class directly.
I tried adjusting it like 10 times but every time after I clicked Apply and went out of the hanger. It would go back to the Economy Configuration.
This wont do as I am not able to operate profitable routes with my plane.
I have a screen recording but cant upload it here.
Please tell me what to do.
Same issue here with my widebody fleet.
Well, my widebodies seem fine… I reckon it has got to do with the fact that the seats 'reset' when you exit and enter back in a second time. When you click 'Apply', it should be set already. This may explain why we can't change the seat configuration when the plane is assigned a contract, because it will mess with the boarding timings. Just a thought…
I did contact the devs on this.
Following is their reply.
.
Hi ____, thank you for the bug report - it's a known issue and it will be solved in following game version (2.0.2) - but it's only a visual bug for the First class value in hangar. But if you assign contract to the airplane (on a flight map) so you will see that applied value for First class seats is there.
.
Unlock 2 A332 with the same price and Amount Of Golden Planes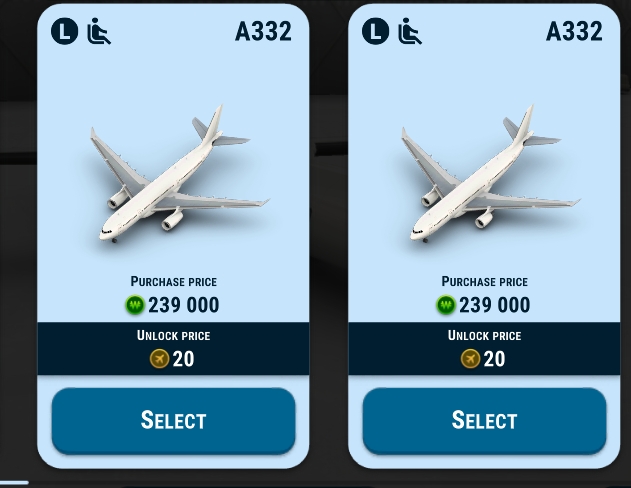 They are the same planes with different engine variants, they have always been treated as 2 different aircraft since they got released, same goes for the A333 as well