Just downloaded the new update. Per level XP requirements jumped considerably on SXM. Anyone else notice a change?
Great they fix the bugs, the bugs that I face is I have restart the game or airport when the aircraft stuck at the stand, does anyone face this problem?
If you can post screenshots I can get them to the devs, but most of those should have been fixed
Yes. All airports have changed, the original calcs were too low meaning 1 big aircraft contract could make you jump up by 3 levels or more.
Now the program has been rebased to come up with a better spread and slow down everyone down. As people were going way too fast
I think that's been fixed too, So It's not guaranteed I can screenshoot, that happen to me on the first 2.0 update.
Another one is game freeze if I leave the game running too long, while I was doing something else while whatsapp or chrome when I return to the game it freezer.
Yea but now its tooooo big…Like how the heck can i level up…I dont think I ever can.
For example I was just playing IAD at level 55 and to upgrade to level 56 i would need 602 XP…While I just finished a contract for an ANA 744 where I handled it 6 times…all I got was 34 XP…Like wtf seriously…Yea sure leveling up should have been made a bit slow but now they have made it impossible.
They should have like doubled it from the previous 110 XP to 220 XP or something…600 XP is way too much to excite people to play for leveling up.
There are many players who do not mind it. Just make contracts with other players. They will speed up leveling the airport significaly.
I agree. In version 2.0.0 I was playing BRI at level 40 and had a very busy airport. After the update, BRI is now almost empty. There are many flights waiting to arrive, but the airport is not filling up. That's very boring…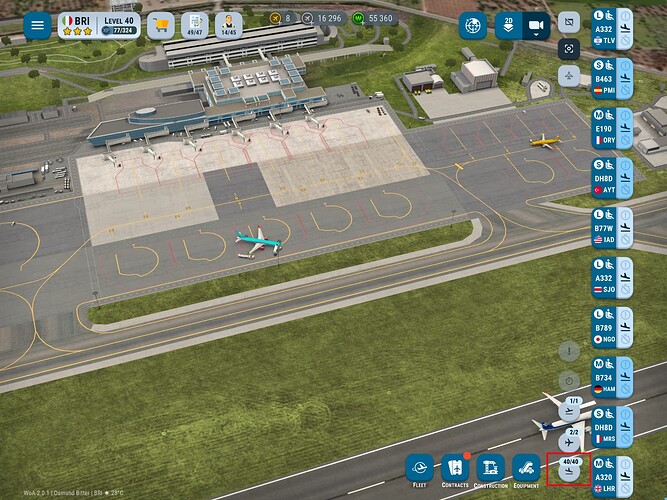 I haven´t experienced this in any of my airports. Must be bad management of arrivals.
Jumped significantly on all airports it seems - about 2.5x to 3x as a rough estimate.
I agree, this level up change would be good for bigger airports but I.E. Innsbruck, it's gonna be much more difficult to level up than it already is.
On another note, Any chance to get St Barths (SBH) as a destination for SXM?
It's the busiest connection they have yet it's missing in game
Winair and Air Antilles would be great airlines for that route with the DHC6
The water-salute seems to be not fixed correctly. Now I don't get any water-salute anymore.
It should be displayed when I another player enters my airport or my new plane arrived the first time, right?
Yes. I'm a newcomer I require 300 plus points to reach level 40 and open up Prague airport earlier it was 50.
I reached MAX at TNCM, could there be an option to use some of those XP's for other airports to help now that the requirements to Level up have increased?
The XP is allocated to the specific airport, so that's not possible unfortunately
This is definitely a stab n the back, levels too hard to reach, wollars did not increase, and most importantly traffic too slow, clearing gates and parkings off should have been less time than it is now.
It's discouraging to continue especially they did not give us back our old routes from previous version nor the ability to base transfer aircrafts.
Sorry and I think they are pushing is out of the game as how much can you tolerate it
Your old routes are under Transferred when you click on Contracts.
I got every single one of mines back
I don't mean that, what I meant that we have to pay again to assign them to our aircrafts except the hubs that are free
I've noticed that not all of my contracts were taken over. For example, in PRG I'm missing the A388 contracts with Singapore and Dubai (I think). Has anyone noticed this?