In hope that it might help some others then myself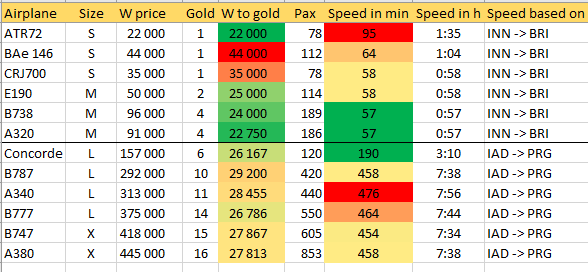 Thanks. But does a B787 give more money for a flight from wash to prag compared to A340?
I did not type in the yield for the planes, and this because I've noticed it has changed over time, and old planes seems to keep their level, and newer theirs. Without knowing, I would assume it has changed over time with newer versions of the game. This gives that it's very hard to write down the yields unless you know all planes were purchased at latest patch version.
With this said, I do think that the prices are related to passenger amount, and not ticket prices. A Concord for example gives less then some M, yet had expensive tickets as far as I know.
I also has the Indigogo-backing trait that make yields give slightly more, so my numbers would be false for most people anyway.
Yields should not be based on tickets. You are not an airline, but an airport. It are handling fees.
it's your own plane though.
thx for this detailed numbers. A340 is still too fast or B787 is still too slow in game

Updated the post with B747-stats.
That is a damn expensive plane compared to the A380
thx mate, but you have to redo it again since the speed has changed enormously just a few minutes ago
A380 IAD-PRG is now 458 min
B777 IAD-PRG is now 464 min
A340 IAD-PRG is now 476 min
@RudiMentaer75 Cheers, I didn't know it was changed. I will go through all the planes, and once so, I'll update the post.
Updated with the latest speed modifications.
Thanks! Any chance you can add a Pax column as well? Does it vary or is it constant?
Aviation word for passengers
Cheers! That's what I guessed was the only other information missing, but I seem to be the only person here not heavily involved in one way or the other with airplanes.
Yes, I can add it, and it is something I had started, but not finalized out of laziness.
Updated with passengers and rearranged the plane order so that it's in the same order as shown in the games "Hangar".
Thank you very much! Much appreciated!
@JensK Sorry to recall you to this topic but could you update again bcs after maintenace update a lot of stuff changed ex. A320 now gives 3 gold planes instead of 4 and BAE gives 2 planes istead of 1. Other things might have also changed which i dont know of