Introduction
With recent discussions about future airports in the Discord server, there have been mentions of Kai Tak potentially being developed as a playable airport. As a Hongkonger myself, I would like to offer some insights about Kai Tak if the airport ever gets built in the game.
Keep in mind that the development of Kai Tak has not been fully confirmed, nor has development started on the airport. Even if it were to be confirmed for certain, development would not be started for a very long time.
Let's start with the basics of the airport: Kai Tak International Airport is the former airport of Hong Kong, serving the city starting from 1925, until it was closed in 1998 to be succeeded by the larger and more modern Chek Lap Kok International Airport. Kai Tak Airport was located on a reclaimed peninsula in Kowloon, and it is situated in the center of the Victoria Harbour.
Kai Tak is very well-known for its iconic approach to the singular runway of the airport, requiring a striking and dangerous right turn before landing on the runway. The aircrafts flying over a dense urban landscape is also very remarkable, with many photos featuring huge airliners flying over buildings.
The IATA code and ICAO code for Kai Tak are HKG and VHHH respectively (although the ICAO code is more often referred to as VHHX). The runway designation is 13/31, the former being the direction for the iconic approach and landing.
With these basics in mind, let's get into the technical details for gameplay on World of Airports.
Layout
As mentioned above, Kai Tak has a singular runway, that being Runway 13/31; Runway 13 is mostly used for takeoffs and landings, so it should be an obvious choice for the fixed takeoff and landing direction.
Here is a chart of the airport layout:
Let's start with the landing taxiway routes: as many would know, planes take different exits depending on their size, or sometimes according to the location of their designated stands. For Kai Tak, this is fairly straightforward except for the issue of the south apron, which will be talked about later in the list of exits.
Taxiway A8 should be used for S-size planes, being the closest exit to the touchdown zone (except for Taxiway A7 for the inappropriate proximity);
Taxiway A9 should be used for M-size planes, although it may be used by S-size planes for taxiing to the South Apron via Taxiway B4;
Taxiway A10 should be used for L-size planes; and
Taxiway A12 should be used for X-size planes.
Upon exiting, planes should taxi through Taxiway B4 towards the South Apron, or otherwise via Taxiway B1 to the Main Apron or East Apron. Planes going towards the East Apron should use Taxiway C1 as a shortcut to H1, while the others towards the Main Apron should use Taxiway D1 or D2. Airliners using jetways should taxi to via Taxiway D1, then C1 and finally D3 to reach the gates.
As for taxiing to the runway, planes should use taxiway D3 for queuing for Runway 13. Airliners from the South Apron should join Taxiway C1 from Taxiway B4, while planes from the East Apron should join Taxiway D3/C1 from Taxiway E1.
For takeoffs, planes should line up from Taxiway A1 (or A3, depending on size) to make use of the whole runway. An issue with airliners queuing on Taxiway A1 (and subsequently Taxiway D2 and D3) however, is that there may be congestion for the main terminal - although this may encourage players to strategize and use the runway more efficiently.
Let's look at the terminals and stands in more depth - here, I will be using ranges to refer to the general area of these stands, as the stand sizes and locations may be changed to fit gameplay. Note that this is just still a suggestion for the progression of the airport, and the details may be different if the airport were to be modeled.
For the terminals, there should be 3 terminals for the stands, with the passenger terminal and cargo terminal each receiving 1 extension for more stands. The player should start off from S stands 33 to 38, then progressively unlock S/M stands 21 to 32 before unlocking the passenger terminal extension for M/L/X and gates 1 - 8 and S/M/L/X stands 15 to 20 , accompanied by the piers extending from the rectangular passenger building.
For the cargo terminal, it could be separated into two purchases, with the smaller South building as an extension for more stands. In this case, the first terminal could unlock stands 41 - 54, while the extension could unlock stands 54 to 61.
And for the South Apron, stands 71 to 81 could be unlocked by the building near the helipads. These stands could exclude S-size so that larger airliners may be accommodated in mid or late game.
It should be kept in mind that since all the X-size planes (except the AN-225), including the B747-8 and A380, did not exist while Kai Tak was still in operation, there may not be a need for a lot of X-size stands in the airport. However, it would be a good idea to keep the stands for the sake of compatibility, and especially for AN-225, which did start operating in 1988.
Again, the number of stands could be changed if Kai Tak were to be added in the game, as the stand sizes may be modified to fit the largest planes of each tier, as well as that smaller stands may be created to balance gameplay.
Destinations
In order to keep Hong Kong as a capable international hub, Chek Lap Kok Airport is receiving a third runway (which is in operation) and a third terminal for more passenger arrivals. This is due to Hong Kong's convenient geographic location - it takes 4 hours to go to Japan or Singapore from Hong Kong, and the short duration of flight means that many South East Asian and East Asian destinations are within reach by a medium-haul flight.
Additionally, Hong Kong (aside from Singapore) serves as a hub for long-haul flights between Europe and Australasia, with airlines choosing to layover at Hong Kong to resupply and continue flights between the distant continents.
Let's begin with regional destinations, which should include East Asia and South East Asia. Starting from China, there should be more selectable destinations there, given the high number of cities within the country; currently, there are only 7 destinations available (discounting Taiwan and of course, Hong Kong itself). I suggest that cities such as Tianjin, Nanjing, Dalian and many more be added as regional destinations so that the void between the Chinese cities would be filled.
Furthermore, I recommend adding 2 more cities to Taiwan, that being Taichung and Kaohsiung. As for South Korea, cities such as Busan and Jeju could be added, since the two Seoul airports are the only available destinations in Korea. As for Japan, there are already enough destinations to serve as regional flights for Nagoya, though I would definitely suggest adding Osaka Itami Airport and Kansai Airport, as these two airports serve the second largest metropolitan area in Japan.
Moving to South East Asia: there are currently only 10 destinations in the region. I would suggest adding destinations to countries that do not currently have any, since it would definitely give more variety of flights and airlines for the players.
Here is a map of the current destinations, in gray, and proposed regional destinations, in green:
And for international flights, I believe that more destinations could be added to Central Asia (although these would most likely be covered by the new Indian airport). Since Cathay Pacific operates frequently to Australia, I believe adding more cities in Australia (as well as New Zealand, and perhaps pacific island nations) would do well to serve as long haul destinations for Hong Kong, while also setting a foundation for a potential future Australian airport.
For the other continents, I believe that Europe and North America have enough destinations for Hong Kong, as these two continents are the main international focuses for the city.
As a side note, I believe that Hong Kong would be a great location for connections to Nagoya and the new Indian airport, given that Hong Kong is between these two airports. Kai Tak would be able to fill the gap between Central Asia and Pacific Asia rather effectively as the flights between Hong Kong these airports would be often medium-haul.
Aircrafts and Airlines
Since the airport was closed in 1998, there were a lot of airlines, including a lot of now-defunct airlines that served Kai Tak. I believe a good way to showcase these airlines would be to not set the time at a particular year, but to generally set the airport in the 90's (however not earlier than the 1974 airport extension). This way, the dates for airlines ceasing operations would be ignored, and a diverse range of the classic airlines would be shown in the airport.
While on the topic of the temporal setting, if the airport were to be set in the 90's, this would mean most of modern aviation would be seen in Kai Tak - aside from the airliners produced post-1998, such as the E-jets, A220, B787, A350, B747-8 and A380, which were not created and produced before the airport was shut down. Players should not be given contracts that utilize these planes on the contract map, but instead be able to purchase their own modern airliners - this allows for more freedom for the gameplay, and moreover, players are still able to decide if they want to keep the airport historically accurate or not.
Since Kai Tak is an airport of the past, it is a must to showcase aircrafts of the past as well: planes such as A300B2-400, A310, B707, B717, B727, B747-100/-200/SP, B767, DC-8, DC-9, DC-10, MD-11, L-1011, Convair 880/990 and many more would be ideal to go along with the airport. In addition, MD-11F and B767F could be used as an extra aircraft option for other airlines as well, such as UPS Airlines for the MD-11F, and a lot of modern airlines for the B767F.
The Concorde and the Comet could also appear more frequently in Kai Tak airport, as there were actual flights by British Airways and Air France to fly the Concorde into Kai Tak;BOAC and other older airlines also operated the Comet before. These could appear as purchasable contracts in the game, although it would still be understandable if these two aircrafts appear as events, however under the condition that they appear in Kai Tak more frequently.
To begin with the selection of airlines, it is utmost important to mention Cathay Pacific, since it is the flagship carrier in Hong Kong. Kai Tak served as a hub for the airline alongside Dragonair and British Asia Airways, although it was also a focus city for Air France Asie. The first three airlines mentioned here could be the airlines for the local contracts, and the last one could be arguably included as a local airline. However, Air France Asie does not have many destinations from Hong Kong (it was a subsidiary to fly to Taiwan), so it may be excluded from being a local airline.
As for the other airlines, there were a lot of historical airlines that had served Kai Tak. As mentioned, many of them have ceased operations already, either due to bankruptcy or a merger with another airline - for this reason, I will be putting the year that these airlines have stopped operating if applicable.
Here is a table of Airlines, Aircrafts and Destinations in Kai Tak, however it only includes the aircrafts that served in the routes to the airport. Additionally, layover destinations, closed airports, and airlines defunct before 1970 will not be included here. The destinations listed here are only real destinations served by airlines, however it could be possible to extend the scope of destinations to the other cities in the country.
It is also quite crucial to mention the retro liveries for the airlines: most airlines in the 90's have already adapted new livery designs that we see today, however it is important to give the spotlight to the classic liveries more often than the modern ones. Perhaps there could be two contracts for one plane with different liveries, like World of Airports already has.
Scenery
The landscape surrounding Kai Tak is incredibly diverse - urban and rural landscapes are both captured around the airport's location. However, the scenery is rather far away from the airport itself, so it is most crucial to consider the extent of the most detailed scenery first.
Kai Tak is known for the frightening approach before landing, and this method involves the Checkerboard Hill - perhaps the area of the detailed landscape should extend out as far as the hill, however doing so requires a lot of detail to be made for the low-lying buildings of the densely populated Kowloon. These buildings may slightly increase the object count of the airport, but it could be potentially optimized by using different detail levels or meshes.
It would also be incredibly nice if one of the streets close to the airport were to be modeled in detail, as a lot of famous photos feature the airliners flying between the buildings. A planespotting camera in the middle of the road would be great, and a potential spot for this would be on the pavement next to Kowloon City Road - or here exactly.
Last but not least, Kai Tak is also very close to the Kowloon Walled City, which is yet another historical site in Hong Kong - the densely connected bulk of buildings sit just behind Runway 13, and it would be amazing if it was modeled to be seen during the approach of the aircrafts.
Zooming out to the broader view of Hong Kong, on the urban aspect, there are a lot of skyscrapers across the Victoria Harbour on Hong Kong Island, and these buildings could be added so that there is scenery facing Southwards. For the sake of optimization and development time, a lot of buildings could be modeled as generic buildings, however it would be fantastic to include the most iconic buildings of the Hong Kong skyline, such as the Bank of China Tower, HSBC Main Building and Central Plaza.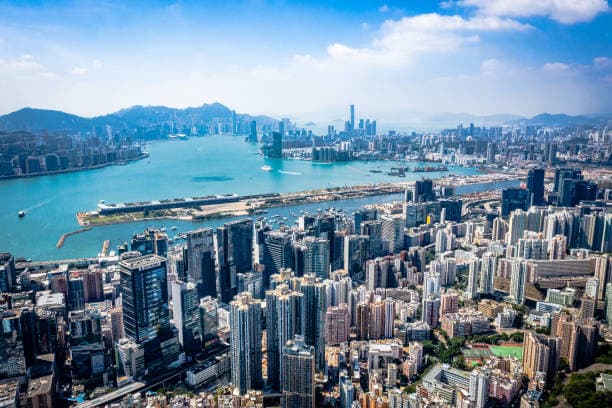 Note that the current tallest buildings, such as Two International Finance Centre and International Commerce Centre, did not exist before 1998, especially the latter since it would obstruct the approach towards the airport. On top of this, a lot of tall buildings in Kowloon City and Kowloon Bay did not exist either due to height regulations as well. The best examples would be the Prince Ritz building and a mall called Megabox, from the two places just mentioned respectively.
As for the rural aspect, there are a lot of mountains on the North of the Kowloon Peninsula, and the closest hill to Kai Tak is called Lion Rock. The hill could be modeled in the same way as the mountain ranges featured in Innsbruck Airport.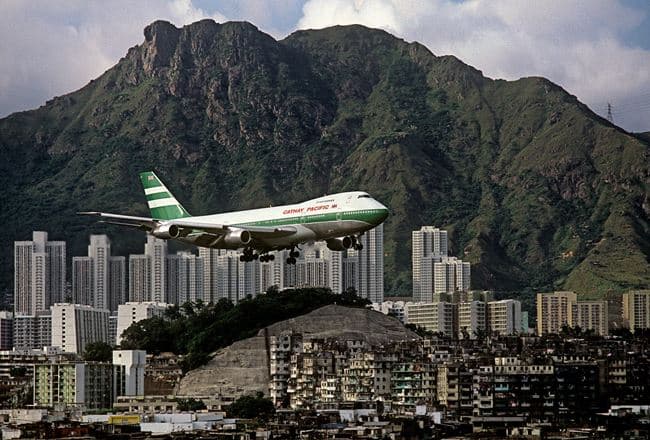 Other Considerations
There are some issues concerning the setting of Kai Tak, for example:
With Chek Lap Kok Airport currently being in service, would it be plausible to separate Hong Kong into two airports? The current airport could be referred to as HKG/VHHH and the former airport could be referred to as HKX/VHHX. The new airport could offer modern contracts, while the older could offer historical contracts. However, These two airports are too close to each other and may cause confusion among players who are trying to send their planes to the playable Kai Tak airport; the pins for these two locations would also be too close to each other for concise selection.

Should Kai Tak restrict the types of aircrafts landing on the airport based on time? More modern aircrafts could be theoretically blocked out of Kai Tak, however it would cause Kai Tak to be slightly incompatible with other playable airports. It may also cause confusion to players who cannot send their aircraft to Kai Tak, especially for New Delhi and Nagoya Players.
I believe that those issues should be considered about the developers if they want to bring Kai Tak into the game.
Conclusion
Those are the ideas that I wanted to suggest for Kai Tak - if you have any corrections, ideas or opinions on this, please contribute to the post below! I've tried to be as intricate as possible while exploring the possibilities, and I am certainly very enthusiastic about the plans to have Kai Tak as a playable airport in World of Airports.