MCT operating on limited capacity!
Muscat – Oman, 24th June 2021
MCT Airport is severely hit by a malfunction of the Flight Uniform Based Auto Route. This advanced plane routing system is "on the Fritz" after a software update yesterday. Planes get stuck on taxiways and/or can not be pushed back from gates or stands. Some incidents of head-to-head airplanes have also been reported.

Planes stuck at Taxiway. Photo: Orange Air
The Flight Uniform Based Auto Route is a GPS based system that keeps tracks of the relative positions of taxing airplanes. It stops a plane when the proximity of another plane gets too close. The current problem is that is does not release the plane after a safe interval has been reached.
The CEO of Orange Air (Midea) commented on the consequences of this failure:
"The system is great for aircraft safety ……, when it works! Our own operations are less affected because of the use of Terminal 1. For the other airlines using the South Pier and the South side of the West Pier we provide as much assistance as possible. Basically, all arrivals are directed to the North side of the Terminal."
The software developer WOA is informed about the reported problems.
Wait, what website do you use to do that?
News meme creator, it's an app
There's a save button at the top so you don't need to screenshot, also couldn't you have hidden the UI?
Sorry about the typos, I missed some while editing
I'm just making stuff up…
I mean its okay. Just add those seats in the plane.
Post ideas for a forum alliance name idk, aslo need a name for Andy's airline so this is a concept story
Picture update: better photo
Text update: fixed errors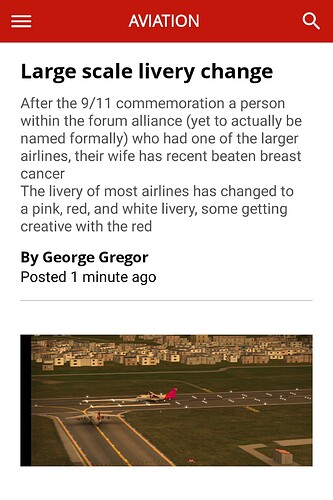 Carlsberg Airlines is the airline name.
As for a forum alliance. That's an interesting one. That might need a wider scope than me.
Given the global nature we could start with Worldways.